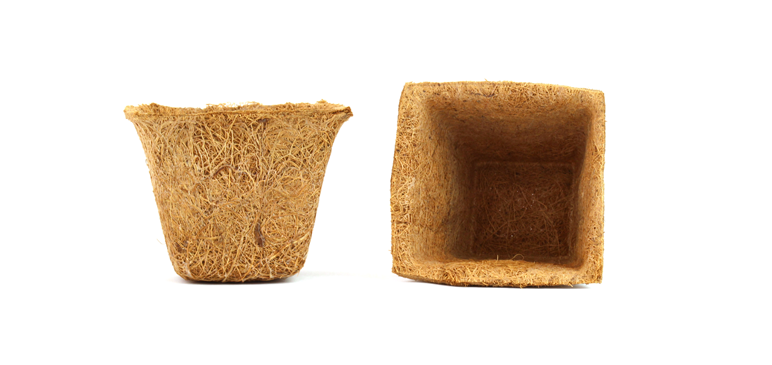 Coir pot/Basket/ Liners
Coco Seedling /Germination cup:
Our seeding cups are manufactured by making use of quality raw material and are the best substitute for plastic cups. Offered products are used to grow seeds. Then after growing the plants can be planted without removing the cup by cutting the outer layer without damaging the roots. We have also made use of advanced manufacturing techniques in order to confirm its long life.
Available size (Top Dia* Bottom Dia* Height): 2.5 * 1.5 * 2 inches

Coco Nursery pot/ Basket:
Coir pots are machine pressed Ecofriendly pots, available in various sizes depend on the customer application.
They are of two types.

Semi-circle pot/ Basket
Cylindrical pot/ Basket
Available size for Semi-circle pot/ Basket (Dia): 10 inch, 12 inch.
Available size for Cylindrical pot/ Baske (Top Dia* Bottom Dia* Height):
5 * 3.5 * 4 inches;
6 * 4.5 * 5 inches;
7 * 5.5 *6 inches
Coco Basket Liner
Coir basket liners come from the long fibers of the inner husk of coconuts. These fibers mat together to form a durable and natural-looking liner for wire-framed planters. Planting properly, whether you grow flowers, foliage plants or herbs, results in healthier plants. . We are offering extensive range of coir basket liners with respect to client's specification. We also provide hanger with this liner.
Available size(in Dia): 10 inch, 12 inch, 14 inch.
Coco Spanish cup
Coir Spanish cup are machine pressed Ecofriendly cup used to grow seeds. We have also made use of advanced manufacturing techniques in order to confirm its long life.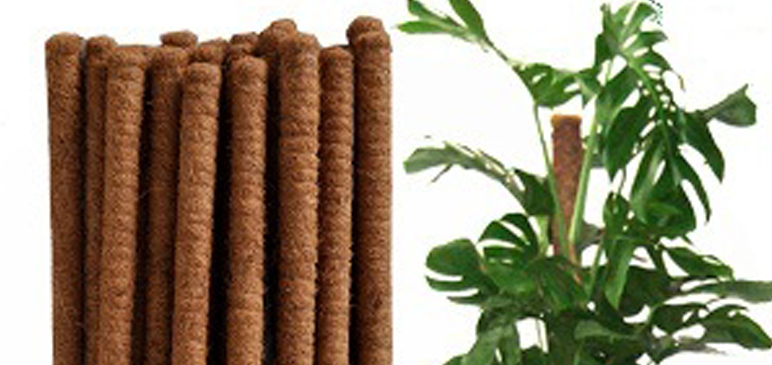 Coir Pole:
Coco poles being porous with higher water holding capacity, helps the plant to develop many tiny roots throughout surface. Plants grow healthily in Coco poles.
We provide the center stick with PVC pipes and 10mm Fibre coverage over the PVC.
This product is available in three different types:
COIR POLE:
With natural coir wound on the pole or thinner coir yarn wrapped to hold tightly.
COCO POLE:
Coir yarn -latex sprayed on the pole with Coir twine tightly wound round the pole.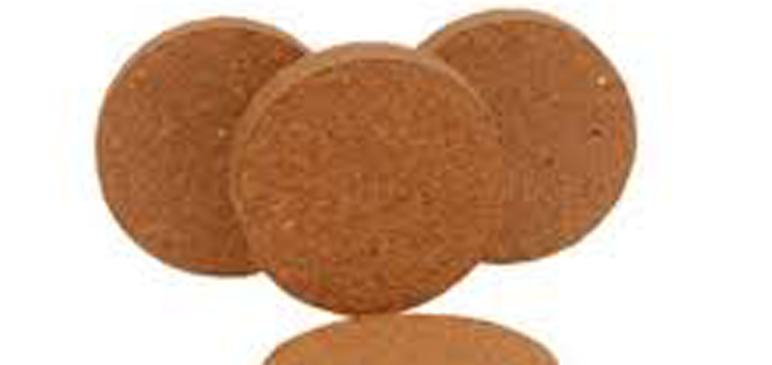 Coir Disk
Coir discs are ideally used for Seed rising and sapling. It keeps the root of plants moist for long period and prevents plant root from direct sunlight exposure. Available in different weights and different dimensions
The composted coir discs need no fertilizer; therefore it is suitable for quicker seed-germination. These composted coco peat discs have the strong ability to make any plant grow to bear flowers or seeds to germinate.
In addition to using as seeding/and planting at initial stages, it can be used as growing medium for well grown plants.
Available size:
20 mm dia., 30 mm dia., 40 mm dia., 60 mm dia., 100 mm dia.
Coco Peat Pellets
We provide Coco peat pellets made of coco pith which is a totally organic growing medium that maintains the soil hale and hearty in a natural way.
Coco peat is also rich in root stimulating hormones. The anti-fungal property of coco pith protects your plants from root diseases including fungus infestation. These pellets are very convenient and ready for planting immediately.
Coco peat pellets can be packaged as 25 pellets in a pack or 1000 pellets in a carton box. Also Packaging can be done as required by customers.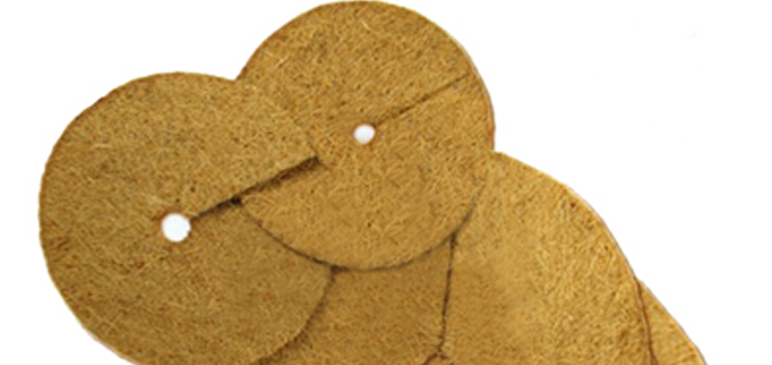 Weed control Mulch Mats
Weed control mulch mats are placed over the plant pot which will block the sunlight thus it controls the weeds growth. In addition it also prevents the drying of the Mud, but allows the Air to reach the Mud.

Available size(in Dia): 15 cm, 20 cm, 25 cm, 30 cm, 35 cm, 40 cm, 45 cm, 50 cm, 60 cm, 90 cm